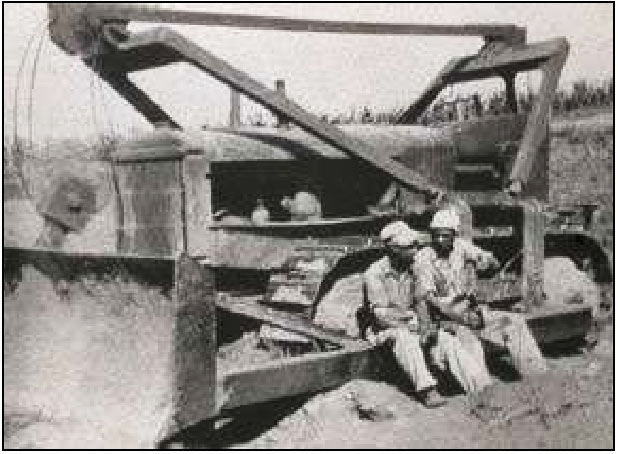 Built on Tradition, CJ Moyna & Sons, LLC. has been changing the landscape of the state of Iowa for three generations.
Father Cecil Moyna and sons John A. Moyna and Jerry Moyna started CJ Moyna & Sons in the 1940's, completing local soil conservation projects with a single Model L Allis-Chalmers dozer. In the 1960's CJ Moyna & Sons expanded their operations to county grading projects located in NE Iowa. By the late 1970's, CJ Moyna & Sons began bidding and completing work for the Iowa Department of Transportation.
Today the Tradition continues with current owner John P. Moyna. CJ Moyna & Sons, LLC. continues to complete work across the state of Iowa and upper Midwest with +200 employees as part of the CJ Moyna organization.
The Early Years—Pre-1950
From Horse-Drawn Equipment to a Rented Bulldozer
While CJ Moyna has been a company for 75 years, the Moyna family's history as road builders goes back even further. Patrick Moyna, great-great grandfather to the current CJ Moyna & Sons president John Patrick Moyna, immigrated to Elkader, Iowa, from Ireland in 1883. Patrick Moyna started the family's legacy of road building, hauling dirt with a wooden wagon and a team of mules. Patrick taught the road-building trade to his son John, who continued the tradition by teaching his own son, Cecil.
In 1946, Cecil was a heavy equipment operator for a local construction company. The sand pit in Elkader was still using horse-drawn equipment and was unable to keep up with construction demand after World War Two. Cecil was hired to help them in his off-hours, renting a Caterpillar D8 bulldozer from his boss at the construction company for the job.
Starting With a Single Dozer
Cecil then decided to take his knowledge of earthmoving and open his own business with his sons Jack and Jerry, starting CJ Moyna & Sons with a single Model L Allis-Chalmers bulldozer purchased with money Cecil borrowed from his father, John.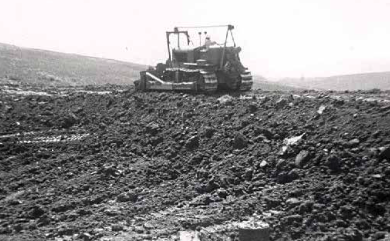 Soil Conservation Work
Soil conservation work for farmers – terraces, farm ponds, waterways, and drainage ditches- was the company staple early on. CJ Moyna didn't have equipment to haul their bulldozer, so they drove it through town between sites.


The First Company President
After three years in the army stationed in Germany, Cecil's son Jack returned to Iowa in 1956, becoming the company's first president, a role he filled for more than 50 years. Even after retirement, Jack denied that he was retired, continuing to go to the shop daily to share wisdom with the team.
Growing the Company—1960s, 70s, and Beyond
Slow Expansion
Even though expansion was beginning C.J. Moyna & Sons was still a family-based business. C.J. supervised, Jack and Jerry operated. The three of them were the backbone of the company. Each had an area of specialty. C.J.'s contribution was to get the work; Jack ran the crew and Jerry did the finish work.
The ground work was laid for the continual growth of C.J. Moyna & Sons. Jack's son, John Patrick soon became part of the equation of growth. However, all family members had a role to play in the progress of C.J. Moyna & Sons. Jerry's two sons, Steve and James also became part of the company during the summer months. In fact, when Highway 330 was graded it was truly a family affair. Jack, Jerry, John P., Steve, James and Danny Steward were all part of the crew. 
State Park Projects
In the 1970s, CJ Moyna & Sons began doing work for the State Conservation Commission, building roads and parking lots at state parks such as the Yellow River Forest and at Pinicon Ridge Park in Cedar Rapids. 
Road Projects
The company's big break in the construction business came when it started to get county-contracted road jobs, followed by larger jobs from the Iowa Department of Transportation. A few big road projects for the company in the 1970s and 1980s included:

Clayton Road East of Elkader, the company's first big road venture
Highway 20 east of Peosta, the company's first big project from the Iowa DOT
Upgrading Highway 20 from a two-lane to a four-lane from Hamilton County in north central Iowa, to Dubuque County and the Illinois border
Multiple portions of the Avenue of Saints freeway from St. Louis to St. Paul
Today CJ Moyna is one of the premier heavy-highway contractors in the Midwest.
Expanding the Business with New Subsidiaries – 2000s and Beyond

Over the course of 75 years, CJ Moyna & Sons expanded to add demolition; aggregate materials production and delivery; utilities installation; equipment development, manufacturing, and delivery; and advanced technology to its offerings. CJ Moyna has become a leader in the earthmoving industry across Iowa and the Midwest, with 475 employees across CJ Moyna and its four subsidiary companies formed to support CJ Moyna and the earthmoving industry in general:
Moyna Materials
Mobile Track Solutions
Progressive Structures
Just Move It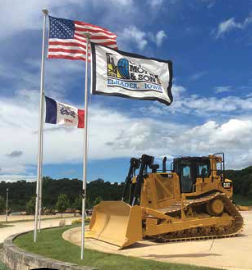 Focus on the Future with Innovation and Cutting-Edge Technologies with Today's Leader – John P. Moyna
Today the company's tradition continues with current owner, John Patrick Moyna. John P. fondly remembers his first ride on a bulldozer with his Grandpa Cecil and accompanying him on company errands as a young boy – usually with an extra stop for a soda pop thrown in. John P. learned everything he knows about running a business from the previous company president - his dad, Jack.
CJ Moyna has a strong focus on technology spearheaded by John P., the owner of U.S. patents for equipment helping to change the earthmoving industry.
Advanced Technologies
CJ Moyna has embraced telemetrics, with its own small air force of drones. This use of drones will increase significantly in coming years, as they're used to estimate and coordinate all projects.
Soon operators will no longer sit in earthmoving machines but will use gaming and computer skills to operate equipment by remote control. Artificial intelligence will soon make grading decisions. And earthmoving equipment will continue to evolve – creating production efficiencies and increasing safety for workers, with fewer ergonomic injuries and environmental hazards.
"The earthmoving business has never looked so promising and exciting," reflects John P. Moyna. "The future of earthmoving belongs to the contractors and manufacturers who embrace the changes that are coming soon."